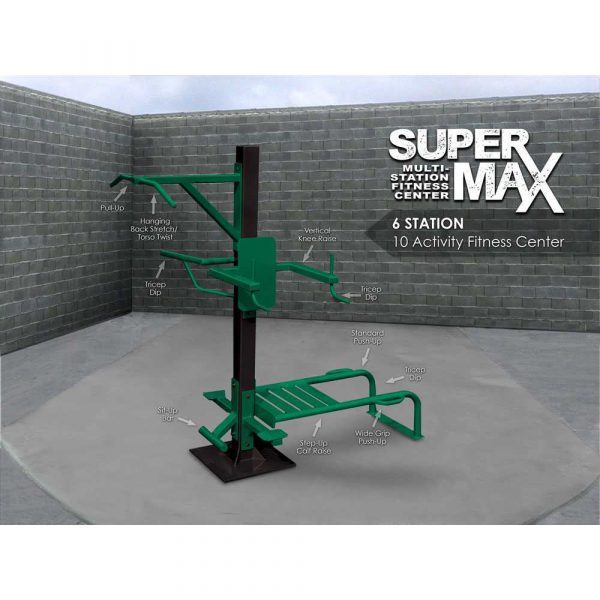 Description

SuperMAX Super Duty Fitness Equipment
SuperMAX Correctional Fitness Equipment is hand made in the USA and designed specifically for use in almost any environment! SuperMAX is the perfect fitness addition for prisons, correctional facilities, military installations, police departments, fire departments, or any application where only the toughest and heaviest duty equipment will work.
Manufactured with oversized steel components, thicker wall sizes, hand welded, Powder coated, and stainless steel hardware (tamper resistant hardware is available). SuperMAX has no moving parts for minimal maintenance and our 25-year warranty makes it the best product for your existing or new workout facility.
Safety Information
FOR USERS: Equipment users must understand that using outdoor fitness equipment does involve the risk of injury, especially if the equipment is used improperly, installed incorrectly or not maintained. Outdoor fitness equipment normally is unsupervised and must be used with care and caution. If the user is unsure of how to use a certain piece of equipment, they should consult the owner or a trainer as to learn the proper use.
Individuals should not wear loose clothing or clothing with drawstrings as they can sometimes become tangled in the equipment and cause injury or death. Having a workout partner is always a good idea in case a problem arises and you need some help. Never start an exercise program without consulting you physician first! Please read the "10 Tips for a Safe Workout" listed below before beginning your new workout program.
FOR EQUIPMENT OWNERS: When determining the placement of StayFIT fitness equipment, it is important to give serious thought to several safety considerations. The safe-use area of the equipment is no less than 36 inches from the outside edge of each piece of equipment. The area needs to be free of obstacles and must have a soft resilient surface under it (i.e. play chips, bark mulch, rubber safety tiles, etc.)
The safety surfacing must conform to the ASTM standard for fall height. If the equipment is such that the user does not lose contact with the ground, it is not necessary to have a resilient surface under the equipment. Outdoor fitness equipment cannot be placed in the same location as children's playground equipment; it must have its own dedicated area. Outdoor fitness equipment is designed for ages 13 years and older.
10 Tips for a Safe Workout
Have a routine physical. Consult your doctor before beginning a new exercise program. Any new exercise can put stress on your body. If you have any diagnosed heart disease or other conditions, you should modify your exercise program accordingly.
Start slowly and begin with moderate exercise and build up from there. Don't go too hard too soon. Always warm up before any exercise routine and cool down when you are finished.
If there are personal trainers available consult them and they will instruct you on how to do the exercises properly with good form.
Warm up slowly before you start you program, a slow gradual warm up (at least 10 minutes) will go a long way to prevent injuries.
Listen to your body! If you experience any sharp pain, weakness, get lightheaded during any exercise, pay attention. This is a signal that something is wrong and you should stop exercising. Continuing to exercise is the fastest way to develop a severe injury.
Make sure you get enough sleep and take some days off so you do not over train.
Dress properly for the exercises you are doing. Wear the proper shoes and clothing to keep dry, cool and warm.
Pay attention to the weather, exercising in hot or humid conditions can lead to serious overheating and dehydration. Watch for signs of overheating, such as headache, dizziness, nausea, faintness, cramps or palpitations.
During pregnancy it is essential that all women discuss their exercise program with their doctor.
Stop exercising and seek medical help if you experience symptoms such as:

Any discomfort or pain
Chest pain or any other pain that could indicate a heart attack — including pain in the neck area, jaw, and pain traveling down the arm or between the shoulder blades
Extreme breathlessness
A very rapid or irregular heartbeat during exercise
Warranty
SuperMAX vertical support posts and fitness stations carry a 25-year warranty, from the date of purchase, against structural failure due to corrosion, deterioration, or faulty workmanship. All other components, such as ropes and hardware, carry a 2-year warranty against structural failure due to corrosion, deterioration, or faulty workmanship.
Replacement parts will be furnished free of charge (shipping and labor excluded) subject to the following conditions: (1) This warranty applies only to the original purchaser; (2) All returns must be approved in advance; (3) Structures assembled improperly or contrary to installation instructions or altered without authorization will void warranty.
Warranty does not cover damage caused by vandalism, misuse, abuse, neglect, or acts of nature. You may be required to submit photographs to determine eligibility for replacement parts.
Pacific Outdoor Products, Inc. will not be liable for incidental or consequential damages. Some states do not allow the exclusion or limitation of incidental or consequential damages, so this exclusion may not apply in all cases. This warranty gives you specific legal rights and you may also have other rights, which vary from state to state.
Product specifications are available through your dealer.  Specifications are subject to change without notice.
Manufacturing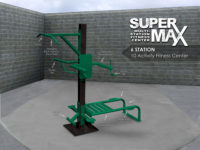 SuperMAX is heaviest and strongest line of outdoor exercise equipment made!  It can withstand all weather conditions and be customized to accommodate all fitness needs and skill levels. It is perfect for prisons, correctional facilities, military installations, police departments, fire departments or any location where heavy duty, vandal resistant, low maintenance equipment is needed. SuperMAX equipment is completely modular and can be designed to fit just about any size area and budget.
Quality Construction
SuperMAX outdoor/indoor exercise equipment is constructed from only the finest materials and designed to withstand everything Mother Nature can throw at it. The vertical support posts are 5" x 5" carbon steel, round tubing is all schedule 40 and all attaching plates are 3/8" carbon steel with heavy duty 1/2" stainless steel bolts. Everything is hand welded, powder coated  and there are no moving parts. tamper resistant hardware is available on request.
Once fabrication is complete, pieces are sandblasted and then powder coated for a tough and attractive finish.
For harsher climates we can also provide an extra layer of protection by applying a layer of Zinc Rich epoxy primer prior to the powder coating. Zinc Rich epoxy primer is a powder undercoating specifically made to improve corrosion resistance when the equipment is installed in or near corrosive environments such as anywhere near sea water, salt fog etc.  It is designed to be an unusually dense plastic powder that contains sacrificial zinc metal.  The zinc metal corrodes before the substrate does because the zinc is more reactive than the steel substrate it is protecting.  It is made to work in concert with a sun weathering top coat, such as the polyester powders that we normally use.  When used with good metal working practices such as removing sharp edges by deburring them it can help improve the life of powder coated metal items.
No material made will stop corrosion from happening altogether, but well designed and executed systems can slow the inevitable down quite a bit.
SuperMAX is simply the strongest product available for indoor or outdoor use.
All SuperMAX outdoor exercise equipment is made in the USA by Pacific Outdoor Products, Inc. and built to the highest standards to provide the best equipment available.  All cutting, bending, welding and fabrication are performed by in-house craftsman located in Maple Valley, Washington. The StayFIT manufacturing team has years of experience in producing outdoor equipment that withstands even the roughest weather.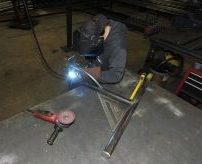 Complete with a 25-year structural warranty, an investment in SuperMAX outdoor exercise equipment is a smart choice.
Standard Colors
Standard Powder Coating Colors
SuperMAX offers the widest variety of standard colors in the industry.
All SuperMAX multi-station fitness equipment can be powder coated in any 2 of our 12 standard colors (see color chart below). Individual pieces can only be powder coated in 1 color. Please indicate the color and color number on your order.
Please click on each color to see a larger color sample.
Installation & Maintenance
INSTALLATION:  Every SuperMAX outdoor fitness system comes with a complete set of installation instructions and drawings. Following is an overview of the installation process.
The designated fitness area needs to have adequate space for the equipment, plus the recommended safe-use zone surrounding it. There should be a minimum of 36" around equipment (from outer edge of fitness system) that is free from any obstacles or obstructions.
SuperMAX equipment is simple to install – all of the fitness activities are bolted on using pre-drilled holes after the vertical posts are secured. The vertical support posts are buried 30" deep using concrete (3-4 bags of 60" premix per hole) – they can also be installed using a surface mount plate. The vertical support posts are built to accommodate the particular type of resilient fall surface being used under the equipment, such as rubber tile or play chips.
Maintenance is minimal as there are no moving parts to wear out or break; however, general maintenance and bi-monthly safety checks for loose or worn components is recommended.
SuperMAX strives to provide everything needed for a trouble-free installation. Phone support is available to answer installation questions (Mon-Fri, 7:30am to 4:30pm PT).
MAINTENANCE: SuperMAX equipment is manufactured and designed for years of trouble-free use, but it may be necessary to do a weekly safety inspection to insure the equipment is safe to use. The inspection needs to include, but is not limited to, the following:
Make sure all the vertical posts and equipment fastening bolts are tight and secure.
Ensure there are no loose or damaged parts.
Cushioning ground cover should be in good condition and the proper depth.
Check for rocks, glass or anything that could be dangerous to the user in the area under and around the equipment.
SuperMAX outdoor fitness equipment is built in the USA using the best materials available. SuperMAX equipment is designed to last for years and years of demanding service. Pacific Outdoor Products has over 40 years of experience in manufacturing outdoor fitness equipment, playground equipment, and site furnishings.
If you have any questions on the safety issues or requirements, call Pacific Outdoor Products at 425-432-6000.