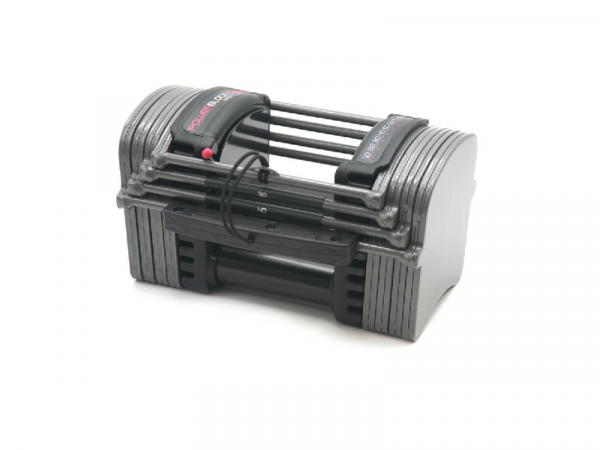 PowerBlock Sport Series Sport EXP 5-50 Stage 1 Set
$533.00
Local Pickup Only
Expandable
'EXP' models start at 50 lbs. per dumbbell and can then be expanded with 2 kits. A kit adds 20 pounds to each dumbbell, so a Stage 2 is 50- 70lbs. and Stage 3 is 70-90lbs. This is a great option for anyone who wants their set to grow with them.
Description
Weight Stacks
Welded solid steel construction. Powder-coated finish.
Handles
An open design of the handle allows for increased range of motion. Comfortable contoured rubber grip.
Side Rails
Bands on the side rails show the weight of the dumbbell selected with the pin. The pin covers the band/rail that's been selected to easily show what the weight is. Some models use color charts on the handle to coordinate with the color band on the rail.
Auto Lock
EXP models have an 'Auto-Lock' to make micro adjustments by reducing the handle weight by 2.5 or 5 lbs. The two 2.5 lbs. inside the tubes at the base of the handle can be removed by pulling on the lever. Tilt the handle back so the inner weights don't spill-out, then gradually tip the handle forward to remove the weights. Manually close the lever or insert the handle in the weight stack to close automatically.Selector Pin
Simple and efficient. Insert the magnetic polypropylene pin into the slot to select the desired weight. The pin has a 500 lbs. max load.
Dimensions
Sport EXP (90 lbs. configuration) : 16″L x 6.5″W x 6.5″H Sport 50 : 12.5″L x 6.5″W x 6.5″H Sport 24 : 10.5″L x 5.25″W x 5″H
Details
(Shown) Sport EXP : Replaces 28 pairs of dumbbells or 2565 lbs of free weights in the space of 1 pair. (not pictured) Sport 50 : Replaces 9 pairs of dumbbells or 540 lbs of free weights in the space of 1 pair. (not pictured) Sport 24 : Replace 8 pairs of dumbbells or 216 lbs of free weightsin the space of 1 pair.
Sold in pairs
Replaces 16 pairs of dumbbells / 825 lbs. of weights
Expandable to 70 or 90 lbs. per hand
Dimensions: 12″L x 6.5″ W x 6.5″ H
Increments: 2.5, 5, 7.5, 10,15, 17.5, 20 25, 27.5, 30, 35, 37.5, 40, 45, 47.5, 50 lbs per hand