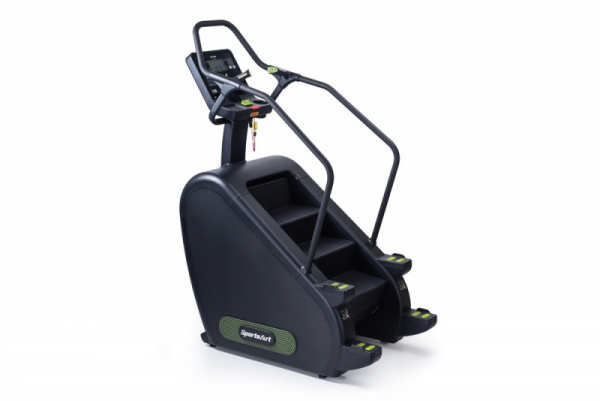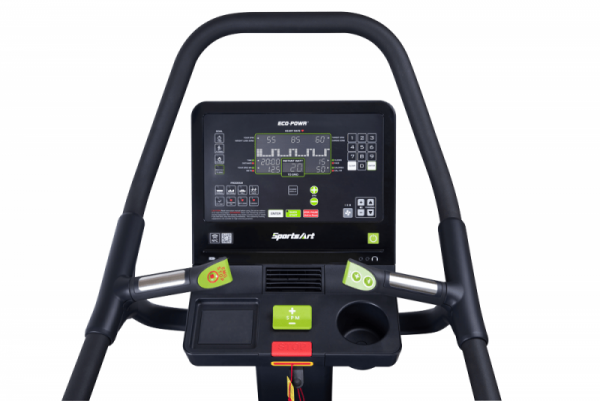 SportsArt G778 Stepper Eco-Powr™ Status Line
$12,395.00
Continuing a tradition of sustainable fitness solutions, the G778 Stepper offers a challenging cardio workout while strengthening core and lower body muscles. The low step-up height allows for safe ingress and egress from the machine and a natural step pattern feels like climbing real stairs. Built-in workout programs and a speed range of 20 to 180 steps per minute create a custom workout experience. The backlit, easy-to-read LCD display and 14 real-time data readouts including steps climbed, calories burned and Watts to Grid lets users feel good knowing they are one step closer to reaching their fitness goals while helping the planet at the same time. 
Description
CHANGE THE WORLD ONE WORKOUT AT A TIME
The cardio line where awe-inspiring design doesn't just meet function, it embraces it with the revolutionary ECO-POWR™ technology that captures human exertion and turns it into usable electricity—benefitting the planet and providing a new layer of meaningfulness to breaking a sweat.
ECO-POWR™ energy-generating technology
Low step-up height
Multi-grip racing handles
Toggle based speed controls
Specifications
Dimensions

(L x W x H)

71.6 x 35.7 x 83.9 in / 181 x 90.7 x 213.1 cm

Max User Weight

400 lb / 180 kg

Speed Range

20 – 180 SPM

Step Up Height

10.2 in / 26 cm

Workout Programs

Fitness Test, Heart Rate Programs, Hill, Interval, Manual, Race

Read Outs

Cal/Hr, Calories, Cardio Zone, Distance, Floors, Heart Rate, Instant Watt to Grid, METs, Pace, SPM, Target SPM, Time, Weight Loss Zone, Your Grid Wh

Features

3-Speed Fan, Multiple Step-Up Heights, Safe-step stair lock, USB Charging
Videos
LEADING THE GREEN FITNESS REVOLUTION
SportsArt's patented ECO-POWR™ technology is revolutionizing the way we think about cardio workouts. The built-in technology drives a connection between our individual actions and the impact those actions have on the environment by turning workouts into clean, renewable energy. With ECO-POWR™ we build healthier bodies and healthier environments⎼one workout at a time.
Convert up to 74% of human energy produced into clean, renewable energy
Motivate members with meaningful impact metrics like watts generated
Generate up to 220 wH of electricity per hour workout, offsetting energy consumption
Simplify cord and outlet management through daisy chain capabilities